Pet Shop Boys discuss "Yes" track-by-track
Posted at
7:31 PM
, 26 August 2009 -

The latest issue of Literally magazine (available to members of the
Pet Shop Boys Club
) also includes a track-by-track feature about the songs and b-sides from the album
Yes
. Here are a few excerpts about the songs produced by Xenomania:
LOVE ETC.
Chris Lowe:
This is an example of what Brian [Higgins] and Miranda [Cooper] were doing with their own project. When we heard it I thought it sounded really fresh. I liked the almost trance broken chord, done with a shuffle rhythm, which I thought sounded really unusual - it had the uplifting element of trance without being trance. Also, when the drums kicked in it sounded really heavy. Everything was already there apart from the bit after the first chorus.
Neil Tennant:
I was dispatched to to say to Brian Higgins, "can we get that bouncy track?" which, I've got to be honest, I couldn't even particularly remember. I liked all the songs that sounded a bit like New Order, one of which I think turned out to be "The loving kind".
ALL OVER THE WORLD
Neil:
This was the last song to be written on the whole album. It started off as a song called "I'm not crying, I'm laughing".
Chris:
The verse music was the same, but with a different melody. And what wasn't there was the chorus. It was also all a bit swingbeat. What we were trying to do was this rhythm from this record we'd heard in Mexico.
Neil:
Xenomania were quite happy with this other song. In fact, after "All over the world" was finished, one day when we were summoned to see Brian he was sitting there and humming "I'm not crying, I'm laughing" to himself. But after we took a month off in August (...) we decided "I'm not crying, I'm laughing" was utter rubbish. So we went into the studio with Tim from Xenomania and - influenced by the way Xenomania work - took all the lyrics off and all the vocals off.
Chris:
And I thought, "Why not carry on the Tchaikovsky chord progression from the
Nutcracker
?". And then it really took off. (...)
Neil:
It was a really good session this - it all happened in about two or three hours."
Chris:
It was really, really great. We just thought, "My God, this is good". What was Brian's famous quote about this?
Neil:
"You've just made the album 10% better"
Neil:
Then I came up with the Bowie-like verse melody: "There's something... that look in your eyes tonight..." I was suddenly channelling David Bowie. (...) Chris and Tim [Powell] also spent a long time working on the rhythm track.
Chris:
Tim really beefed the rhythm up, made it four on the floor.
BEAUTIFUL PEOPLE
Neil:
Brian Higgins, when we first played him songs we'd written, really liked this song a lot.
Chris:
It was fully formed.
Neil:
I always think of our demo as being a bit more folky.
Chris:
It didn't sound folky to me. The original aim was to be r'n'b. They're quite soulful chords. The exact arrangement was already there.
Neil:
Anyway, folk and soul do meet in the Mamas and Papas and, even at this stage, the backing vocals were supposed to be like the Mamas and Papas. When we wrote this song I loved it to pieces. On the demo I do a guitar solo - we didn't keep that, unfortunately.
DID YOU SEE ME COMING?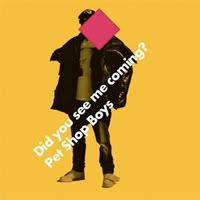 "Did you see me coming?" was primarily chosen as the second single due to the enthusiasm of Parlophone record's radio promotion staff, who felt that it would get a lot of airplay. Before
Yes
was released, Neil and Chris considered it unlikely to be a single, thinking that songs such as "All over the world" and "Pandemonium" were more obvious choices.
Neil:
I was worried the title sounded obscene. It wasn't meant to. My mother used to say "they must have seen you coming" if you'd been overcharged for something. It came from that. (...) The song is about someone walking into a bar and seeing someone and thinking, "God, I really fancy them, I could spend the rest of my life with them." (...)
Chris:
Wasn't this the one Brian Higgins said...?
Neil:
... yeah, that it was "80% there". He always liked the bit where the Gregorian choir solo comes, because it's rather unexpected. He said, "Oh, that's beautiful". We brought Johnny Marr in, put the guitar on, and they beefed up the rhythm track. But it's one of those that's most similar to the original. It's the same vocal as the demo.
Chris:
Great ad libs at the end.
Neil:
I'm giving 110% on the ad libs. That's me thinking "What would Dusty do?".
VULNERABLE
Chris:
It's another one that we played to Brian on our first visit - audition, I mean.
Neil:
The demo was actually in a different key. We took it down because I couldn't sing it. They just sort of beefed it up. (...) Nick Gatfield [global president of A&R for EMI] wanted it to be a duet, and there was talk of us approaching Carla Bruni, which was Dave Dorrell's idea. I could imagine her singing it. The song itself is sung from the point of view of a woman we know.
Neil:
The guitar is actually a sample played by Chris. I liked this song because I always felt it sounded very French, a bit like
"Voyage Voyage"
or something. I think it's got a particularly beautiful melody. The sort of melody that we write that is just taken for granted, really. But I sometimes wonder if the whole idea of melody is old-fashioned now.
MORE THAN A DREAM
Neil:
This was originally called "Where the wild things are", which was a bad title, and it went through a lot of different changes. It was going to be scrapped at one point. Though Brian also had announced that it had a hit introduction. I think it probably does - if this was Girls Aloud it probably would be one. I worried that it was too not us to be on one of our albums. But at one point, just when we were on the verge of scrapping it, Chris went upstairs and wrote the melody for "coming soon, something good", and I love that melody.
(...) And Brian loved that melody coming after the intro, because the intro is very chirpy. Again it's very French. It reminds me of some French record in the Eighties like "Etienne Etienne".
Chris had also written this other bit - where it goes "Driving through the night, just you and me..." which Miranda and I had "lyriced" when the song was still "Where the wild things are". We always used to refer to it as the Belinda Carlisle bit. (...) I think for the chorus Miranda wrote the medley and I wrote the lyrics. In the verses, I had the idea of "coming soon, something good", and then the second verse Miranda and I wrote together. So it's a genuine collaboration. Brian got involved a lot in the structure of it.
BUILDING A WALL
Neil:
The person who liked this track was Brian Higgins. Even when it was finished, Chris and I suddenly had a move to scrap it.
Chris:
The backing track went through a major transformation. It went through trance - the verse melody actually came from the trance melody that we then legated into that - and then it went rock.
Neil:
Johnny Marr played weird guitar - we told him to play like Robert Fripp on "Heroes". It's Stuart Price's favourite track on the album.
Chris:
My voice is on it because Neil asked me. It wasn't my idea.
Neil:
I thought "protection, prevention..." would be good with two voices.
Chris:
I'm happy to oblige.
KING OF ROME
Neil:
I had an idea of writing about the King of Rome, who was Napoleon's son. (...) he had no family, and he was lonely, and he didn't know his father. He just seemed like an incredible symbol of loneliness and exile.(...)
I was writing the words for "The King of Rome", having written pretty much the whole lyrics, I suddenly thought it could be "The King of pop" instead. (...) I was just thinking what a tragic figure Michael Jackson is, endlessly roaming the world. (...) Brian Higgins wasn't keen on it being about Michael Jackson, and when I told him what it had been originally called he said, "Yeah, we'll go back to 'The King of Rome'." Actually he used to call this song "Baby come back to me".
Chris:
Or "It couldn't be more tragic" - that was his other title for it. The music never really changed. I was expecting a bit more production on it, but Brian liked it as it was. It was just a drum loop.
PANDEMONIUM
Neil:
Unlike the rest of the album, "Pandemonium" was written in the previous year, in 2007, when we were writing songs for Kylie Minogue.
Chris:
I think it's a really good drunken having-a-laugh-with-your-mates type of record. It's got that kind of Seventies glam rock feel to it.
Neil:
Johnny Marr liked that about it.
Chris:
Johnny plays harmonica, which we didn't know he could play. He went to the boot of his car and whipped out his harmonica.
Neil:
We got a load of people from Xenomania to do the "ooh"s and "it's pandemonium", including Bob Stanley from St Etienne.
THE WAY IT USED TO BE
Neil:
It's probably never going to be a single, because the song is very long, and it's a very difficult song to edit, because the story is the story.
Chris:
This was a Xenomania backing track. I absolutely loved this the first time I heard it, and I got dispatched upstairs with it.
Neil:
It was going to be a duet all the way through. We were thinking of asking Tina Turner. But we didn't. Miranda and I had the idea that it was like a film. It's the story of a relationship - at the beginning it's two people meeting again after a long gap, and then you have a long flashback to the start of their relationship when they're first in love. Miranda and I sat down and wrote the story. They've been on holiday to Rome and then they've moved to Manchester (...) and then they move to New York, a fatal mistake, and the relationship falls apart, and one of them moves to Los Angeles. In the end, they've met again, and they're getting back together.
Chris:
A happy ending?
Neil:
To denote that, at the end of the song I wanted to change the key, but it sounded a bit naff. It didn't work.
Chris:
Tierce de Picardie
.
Neil:
What's that?
Chris:
It's when you suddenly end on the major chord.
LEGACY
The Chinese government (department of General Admission of Press and Publication) didn't approve the distribution of "Legacy" within China. The Pet Shop Boys suggested that rather than remove it completely, it should instead be included as an instrumental.
Neil:
It's quite interesting to be confronted with the reality of that. I think that having the instrumental track makes the point. It reminds you that China is a totalitarian country. It's interesting because China is quite free in artistic expression, as long as it's not political.
Neil:
Returning to the book
The Rest Is Noise
I read about a chord called the tritone which used to be, in the Middle Ages, regarded as devilish. It's a particular combination of notes, a major triad with a a flattened fifth so that it has a note that does not belong in the key, and it has an amazing quality. (...) I was also listening to Johnny Greenwood's music for
There Must Be Blood
. But Chris started writing the music to "Legacy".
Chris:
This is a bit more tonal, but it was inspired by interesting chords that weren't pop chords. (...) The fun bit of this song is the waltz. It's such a release. Waltzes are pretty exciting, I think. Waltzes are just so exuberant (...). And it was great fun to record - there are timps and cymbals. When we do a waltz it's a Viennese waltz. It was Neil's idea.
Neil:
I was thinking Roxy Music would have had a waltz. There's a Roxy Music track [
"Bitter-Sweet"
] on their fourth album. I just thought it was a fantastically pretentious thing to do - go into a waltz and then sing it in French.
THIS USED TO BE THE FUTURE
When the Pet Shop Boys decided that their album sounded a bit long, after playing it back to the record company at Abbey Road studios, they decided to remove the song "This used to be the future". (It originally came between "King of Rome" and "Pandemonium".)
Neil:
I'd had the title "This used to be the future" lying around in my notebook for quite a while. And also the idea of writing a song about the way the future was meant to be, and how it hasn't turned out. When I was a child in the Sixties there was going to be this glorious future of Le Corbusier town planning and space travel, and everything would be rational and liberal. (...)
It occurred to me one day that that we have this combination in Iran, say, of fundamentalist religion and nuclear technology. You also have that potential in Pakistan. And there's a dialect happening where something that's come out of an utter process of rationalism has joined forces with fundamentalism. And that was never meant to be the future. In fact the past has become the future. I didn't want to go on and on about fundamentalism in it, but I just wanted to make that point right at the end - that's why it ends with "amen".
Neil:
We also thought that that we'd get Bernard [Summer] to sing the melody which sounded a bit like Bernard, though in the end we didn't ask Bernard because we thought maybe it would seem a bit Eighties to have Bernard Summer, Neil Tennant and Phil Oakey singing the song. So Bernard was replaced with Chris Lowe.
Chris:
[Phil Oakey] did a few different [vocal] styles. He said, "Do you want me to try my Iggy Pop vocal?" Which is the one that's on the finished record.
Once they had decided to create the album that would become
Yes etc.
, Neil and Chris asked Xenomania to work on the new mixes. The Pet Shop Boys chose six of the album songs to be remixed. «We went down for two days», says Neil. (The Pet Shop Boys couldn't be there for the mixing of the last two tracks and this is why they are not credited as co-remixers of those.)
Labels: Pet Shop Boys