The new Pet Shop Boys album is out now
Posted at
2:33 PM
, 23 March 2009 -

The new Pet Shop Boys album,
Yes
, is officially released in the UK today.
Yes
was produced by Brian Higgins/Xenomania and contains 11 new songs, including three songs co-written with Xenomania.
1.
Love etc.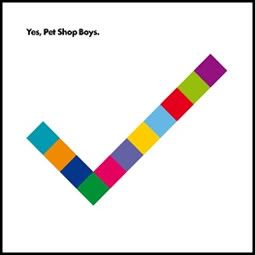 2.
All Over the World
3.
Beautiful People
4.
Did You See Me Coming?
5.
Vulnerable
6.
More Than a Dream
7.
Building a Wall
8.
King of Rome
9.
Pandemonium
10.
The Way It Used to Be
11.
Legacy
The double-CD version,
Yes etc.
, is only available on CD. Pet Shop Boys'
official web site
says that stocks are limited, although more copies are already being pressed due to demand from retailers.
Yes etc.
(the one with the black cover) features a new song, "This used to be the future", produced by Xenomania and featuring guest vocals from Philip Oakey of The Human League, as well as six instrumental dub mixes of songs from
Yes
. Definitely worth buying, as "This Used To Be The Future" is completely album-worthy and the dubs are inventive recreations of the original songs.
The full track-listing of
Yes etc.
is as follows:
1.
This used to be the future
2. More than a dream (Magical dub)
[remixed by Xenomania/Pet Shop Boys]
3. Pandemonium (The stars and the sun dub)
[remixed by Xenomania/Pet Shop Boys]
4. The way it used to be (Left of love dub)
[remixed by Xenomania/Pet Shop Boys]
5. All over the world (This is a dub)
[remixed by Xenomania/Pet Shop Boys]
6. Vulnerable (Public eye dub)
[remixed by Xenomania]
7. Love etc. (Beautiful dub)
[remixed by Xenomania]
Buy the album:
-
Record Store
-
HMV
-
Amazon
-
iTunes
Labels: Pet Shop Boys, releases